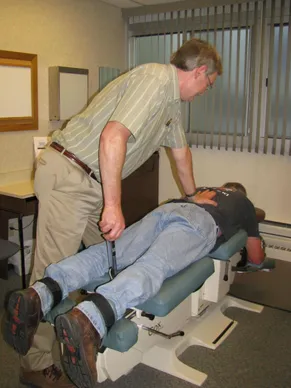 Cox Decompression, previously known as Flexion-Distraction, was developed in the 1970's. The technique was refined by Dr. James Cox, who designed a manipulation instrument to perform the procedures. Cox Decompression is a gentle adjusting procedure that uses minimal force. As with other chiropractic therapies, it works with the body's natural design to help it heal correctly.
The therapy is particularly useful in treating herniated, ruptured, bulging or degenerative discs. This may be limited to back or neck pain, but commonly causes referral to the arm or leg as pain, numbness or weakness.
Cox Decompression may provide a safe and effective alternative to surgery or other invasive medical treatments.
How Cox Decompression Works
The treatment instrument allows for very specific control of spinal movement, gently tractioning the involved disc, and allows for multiple motions such as side to side and rotation, all motions that are natural to the spine. Because all movements are slow and gentle, the therapy is suitable for everyone, even pregnant women, children and elderly patients.
The goal of the therapy is to open the space between the discs of the spine and to create a vacuum effect that draws the material of the disc back to its original position, reducing pressure on the nerve and relieving pain. ing pain. Additionally, it can simultaneously help remove misalignments in the facet joints posterior to the disc and restore normal motion to relieve pain emanating from them.
How Cox Decompression Can Help
If you suffer from a prolapsed, ruptured, herniated or bulging disc, Cox Decompression may help to achieve the following:
Remove pressure on and nerves and improve circulation by its pumping action, increasing the height between the discs
Drops pressure within the nucleus pulposus of the intervertebral disc by up to 192 mmHg of pressure;
Allows the protruding part of the disc to assume its normal, central position
Restores the joints of the vertebrae to their physiological relationships of motion
Increases the area of the intervertebral foramen up to 28%

When Will I Be Better?
There are many causes of neck, back and leg pain problems, and we will be most conscientious in diagnosing your specific condition. On the first visit, the doctor's job is to perform a through examination including x-rays if necessary, to accurately diagnose your condition and outline the treatment protocol best for your back problem.
In some cases, Cox Decompression can work quickly, with some patients showing immediate improvement. Other cases such as disc injuries may proceed more slowly. The rule of thumb is that you should feel 50% relief of your back or leg pain symptoms within 3 to 4 weeks of continued, cooperative care. Periodic re-examinations will track and document your progress. If you do not show signs of 50% relief within 3 to 4 weeks, a referral for neurosurgical consultation or further testing may be made.
INFORMATION ABOUT COX DECOMPRESSION THERAPY
- PAINLESS & EFFECTIVE
- CLINICALLY PROVEN
- TREATS BOTH NECK & BACK
- Treats most Disc Problems including BULGING, HERNIATED & DEGENERATIVE DISCS
- COVERED BY MOST INSURANCES

- 86% EFFECTIVE FOR DISC HERNIATION
- 91% EFFECTIVE FOR LUMBAR SPRAIN/STRAIN
- ELIMINATES SCIATICA, NUMBNESS & TINGLING




For more information contact us, or visit www.coxtechnic.com